Go Back
The Tongue Weight Scale That Saves Lives
Towing can be dangerous and towing mistakes can even be fatal. By using a good tongue weight scale, you can safely and confidentially move forward with peace of mind
The Problem:
A lot of people don't know how to properly hook up and load a trailer. Some will settle for only one safety chain or no chains at all. Some will even forget the safety pin when in a hurry. (I know- I was shocked too, but it definitely happens.)
But honestly, even the most experienced drivers might not load the trailer correctly when distracted or rushed. We all have those days, it happens to everyone.
Sometimes the results can be deadly.
A quick YouTube search on improperly loaded trailers can have you cringing and second guessing your ability. With too much tongue weight or negative tongue weight, a trailer is prone to swaying until it loses control. This results in the trailer jackknifing or flipping, sometimes flipping the tow vehicle too.
I watched dozens of these accidents and heard stories from a few drivers that were unfortunate enough to lose control. One of the most common causes was too much tongue weight or too little tongue weight. When they were loading they were rushed, didn't have to go too far, or just didn't realize it would matter.
Weight Distribution
Too much tongue weight will weigh down the back tires of your vehicle and push your vehicle around, making it harder to steer and brake. On the contrary, when the the load is placed too far back, the tongue weight will be too light. Then the trailer is likely to start swaying on the highway, as seen in the video above.
The thing is, and please hear me on this:
Sometimes it's just a few inches that makes all the difference. Sometimes it's hard to even see that it's off.
The pictures above remind me of Goldilocks and The Three Bears. The first trailer had too much tongue weight. The second trailer had too little tongue weight. But if he had the Weigh Safe it would have been juuuuuuuust right.
Seriously though, these accidents are scary and often fatal to the driver, passengers and nearby cars. They are also preventable.
Here's another video for all you visual learners (you're my people.) Quick side note: this video is from Aluma Trailers, one of our aluminum trailer suppliers.
The Solution: Weigh Safe's Tongue Weight Scale
It's a hitch that has a scale built right in to tell you if you have too much or too little tongue weight. It takes all the guess work out of loading and ensures that your cargo is safely distributed. I love that it's all one product and there's no need for a separate scale!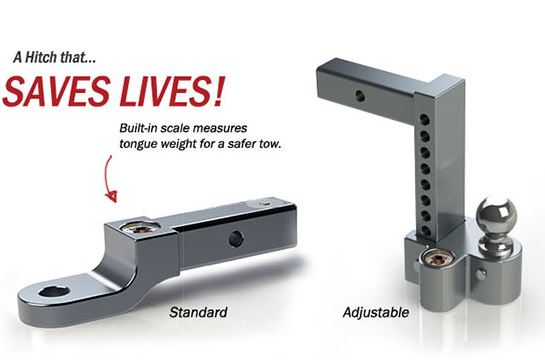 Weigh Safe has a lot of cool products and I'd encourage you to check them out here. Today I'm going to highlight the most popular option, the Drop Hitch. Already have one? Check out some of our other popular products right here.
Otherwise, read this excerpt from Weigh Safe to see how it works:
Weigh Safe Drop Hitch
"The Weigh Safe Drop Hitch is the one and only trailer hitch with a built-in scale that signals you to adjust your load before you hit the road, resulting in a much safer and enjoyable towing experience. Before this ball mount, gauging your trailer's tongue weight was a hassle. You had to rely on inefficient bathroom scales, make a trip to the weigh station, or purchase a separate tongue weight scale. But with the Weigh Safe's built-in scale, measuring your tongue weight is as easy as coupling your trailer to your ball mount.
Simply hook-up your trailer to the Weigh Safe ball mount just as you would any other ball mount. The weight of your trailer will push down on the hitch ball, which in turn pushes down on an internal hydraulic piston that sits on a bed of oil. When the piston drops into the oil, the pressure reading is sent out to the scale." -Weigh Safe
Drop Hitch Features
I tell ya, it is so nice to have complete confidence that everything is loaded in the right spot. Every. Single. Time. This tongue weight scale is truly a game changer.
It saves time and saves lives.
We love the drop hitch for this amazing safety feature, but also the versatility it offers! The Weigh Safe drop hitch comes with two different sized balls and an adjustable height. This allows you to safely haul multiple sized trailers and it gives you the ability to match the height and ball every time.
This hitch is made from billet aluminum and it will be the last hitch you ever need to buy. It has all the strength you need and is weather resistant. You can opt to buy it with a shaft size of 2", 2.5" or 3."
Made In America
Weigh Safe is an American company and all their products are made in the USA. Their hitches are well known and we are happy to carry them and and recommend them to our customers.
I can't recommend this hitch enough! Click the button below to see more product details. You'll find several informational videos, reviews and more specifics. Let us know if you have any questions! We carry these at our store and we are here to help!
>>><<<
Subscribe to our bi-weekly newsletter below to stay up to date on the latest news! You'll receive exclusive offers, insider tips, and be the first to know what's new and what's going on sale.
We're pullin' for ya!
-Ally Mollenkamp