Go Back
DIY: Repack Wheel Bearings
Why you NEED to Repack Wheel Bearings
The wheel bearings need to stay well lubricated to work properly while bearing the weight of your trailer. Unfortunately, over time the grease breaks down, especially if water works its way inside the bearings. Therefore, it's important to repack wheel bearings with grease on a regular basis. It is required to do so every year or 10,000 miles.
It's one of those "adulting is hard" chores that just has to get done whether or not you feel like it. And hey, if you don't want to do it, bring it in! Our guys can repack wheel bearings like it's their job. We are more than happy to do this for you at our shop; we take pride in providing the best trailer service in west Michigan.
If you're here, then you'd probably rather DIY and save some money. That's great! We put together this quick step by step tutorial to help you along the way. But we're also happy to help out the DIYers at home!
5 Steps to Repack Wheel Bearings
Before you begin, you will want to have all your materials out and ready to go. Here is a complete list of everything you might want to use.
Materials Needed
Hammer
Needle-nose pliers
2 Jack stands
Large flat head screwdriver
Large adjustable wrench
Wrench for lug nuts
Solvent
New cotter pin
Bearing grease
Gloves
Clean rags
Small pan
Some of these things can be substituted with a different tool, however having all these things on hand will help you do get the job done in a quick and somewhat* clean manner. Once you have these things it's time to get in and get your hands dirty!
Step 1: Removal
With the axle raised on a jack, remove the wheel and then the dustcap. The flat head screwdriver will work to take off the dustcap. Next, remove the cotter pin by unbending it and pulling it our with your needle nose pliers. And finally remove the rear bearing.
Step 2: Cleaning
Now it is time to take the seal out of the bearing. There are several ways to do this but we recommend simply prying it out with your flat head screw driver. Once that is out, you can remove the inner bearing as well. Use solvent to clean all the old grease off of the bearings, races, seal and hub surfaces. It's important that you clean all parts thoroughly!
Step 3: Repacking
Once everything is out and clean, you can do the actual repacking. Do this by putting a glob of fresh grease on your palm and begin working it into the bearing. Make sure that it is fully packed and no gaps remain. It's also ideal to add another layer of grease around the rollers, on the bearing race surfaces on the hub and the bearing's faces. Basically, anywhere you can put new grease; do it. Grease= good.
Step 4: Replacing
Once you're done playing in the grease, tap in a new seal, ensuring that is is even and snug.
Step 5: Assembly
Really, the only thing left is to just put it all back together. Place the drum back on the axle (maybe add yet another glob of grease to it's face). After the careful placement of the thrust washer and spindle nut, the drum should easily spin on the axle. Insert the new cotter pin and cover with the dustcap. After putting the wheel back in place, you're done! Well... with that one wheel, anyways.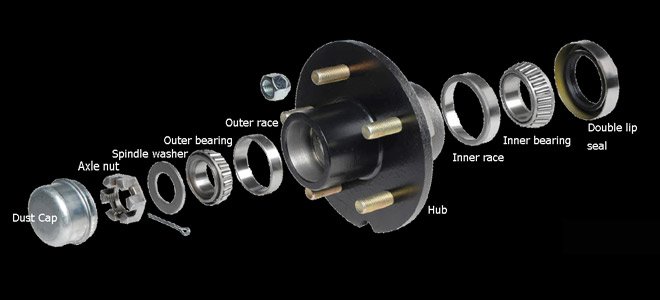 Here is an additional list of tips to help you get the job done perfectly:
If your trailer has been in storage for some time, it still needs this service done. Grease will break down on a parked trailer, too.
Don't torque the spindle nut when you are re-assembling. It will crush the bearings. Just make sure it is snug.
Always replace the cotter pin.
And just in case you happen to be "that guy" stranded on the highway, we think it's a good idea to carry an extra set of seals and bearings, all which you can find in our parts department.
---
Trailer Service at Grandville Trailer
This simple task should take you about an hour to complete and is something that most people can do on their own at home. However, if you can't find the time or space to do it yourself, need to bring your trailer in for another reason anyways, or are just having a bad Tuesday, we are more than happy to do this for you! That's what we're here for. Do you have an extra set of seals and bearings stored in your truck or trailer? If you don't, you might consider swinging by and grabbing some. If you want to tackle this project at home, we are more than happy to answer any questions you have while you are here!
At Grandville Trailer, we're pullin' for ya!
-Ally Mollenkamp