Go Back
Best Utility Trailer Brands
Many of the people in our community rely on a utility trailer for work, hobbies, home projects and play. So we do our best to have the greatest, and most diverse selection with varied prices. There's something for everyone. Our options of utility trailer brands range from $1,195 to over $5,000.
They are made from aluminum, steel, wood, and even polymer. You'll find single and tandem axles, some with no sides, and all the way up to 24" sides. These trailers are used for construction equipment, landscaping, moving, and hauling away debris and yard waste. They are used by home DIYers, weekend travelers and hardworking contractors.
Our selection of utility trailers support a wide variety of needs and lifestyles. We're here to bring you the most affordable models that will last for years. So take a look at the brands we carry- the brands that we believe are the best when it comes to utility trailers.
Our Favorite Utility Trailer Brands
FLOE CargoMax
The FLOE Cargo Max is one of the best designed utility trailer brands on the market! The 5x8 weighs only 290lbs but can carry up to 2,200lbs. The polymer bed is extremely resistant to any kind of impact and the lightweight aluminum frame won't ever rust.
The various sizes offer a wide range of possibilities for this trailer. You'll love the versatility and the ease of use with the FLOE CargoMax!
Read more about this utility trailer brand here.
Aluma Trailers
Aluma makes trailers that will last for years to come. We love them because aluminum does not rust and weighs much less than steel. If you just need a trailer to haul smaller equipment for your business or hobbies, Aluma might be the perfect fit for you.
Read more on Aluma Trailers here and then check out the many models we have to choose from! We try to keep a large variety on the lot, but there's even more options in our showroom. We are always able to special order something that we don't have in stock and get you exactly what you want.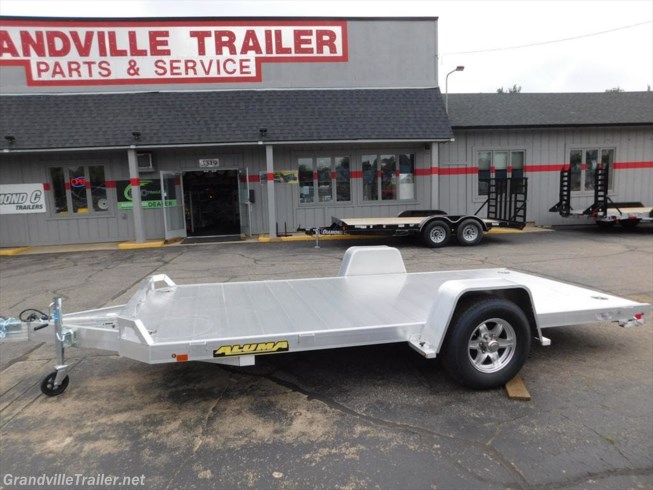 Sport Haven
Sport Haven utility trailers start with an aluminum frame, wood deck and ramp gates. We have various sizes ranging from 5x8 to 7x16 with single and tandem axles.
For a tougher option, choose one with a steel frame that's covered in aluminum. You'll have all the strength of a steel trailer with the long lasting, rust free perks of aluminum. Many come with a bi-fold gate that will improve the ease of loading and unloading while cutting back on wind resistance while towing.
These well designed trailers are a fantastic option for someone looking to spend $1,795- $4,400. You can get one tailored to your own needs because they offer many different options.
BND Trailers
BND Trailers is an up and coming supplier, new to our area in Michigan. They offer several steel framed models that are perfect for hauling work equipment or toys. With a BND Trailer you'll get the quality you deserve for the prices that you love.
Diamond C Equipment Trailers
Check out Diamond C's equipment trailers when you're in need of a little more hauling power. These steel trailers are incredibly strong and the quality is unbeatable. With so many models and features to choose from, this is one of the best utility trailer brands!
If you're interested in ordering an equipment trailer or dump trailer, stop by, give us a call or send an email to Sales@grandvilletrailer.net
We try to keep a diverse lineup of utility trailers from Sport Haven, FLOE CargoMax, Diamond C, BND and Aluma. These are the best utility trailer brands because of the high quality and competitive pricing. If we don't have the trailer you want in stock, click on the links in the list above to browse through these manufacturers products. Give us a call if you see something you like and we can order it for you!
Subscribe to our bi-weekly newsletter below to stay up to date on the latest news! You'll receive exclusive offers, insider tips, and be the first to know what's new and what's going on sale.
We're pullin' for ya!
-Ally Mollenkamp